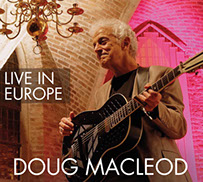 Autographed copies of the new CD 'Live In Europe' are available at the Store.
# 2 on The Roots Music Report
"A positively excellent album,
a must for all lovers of the genre. Don't let this one slip away."
- Iain Patience, Elmore
NYC USA Today
"Fans of well-played acoustic blues will treasure this recording... Doug MacLeod, a master of the genre." - Blues Blast Magazine
Now Available!
Doug's 101 Blues
Guitar Essentials
Doug's introduction to Belgian beer. 'Duvel'